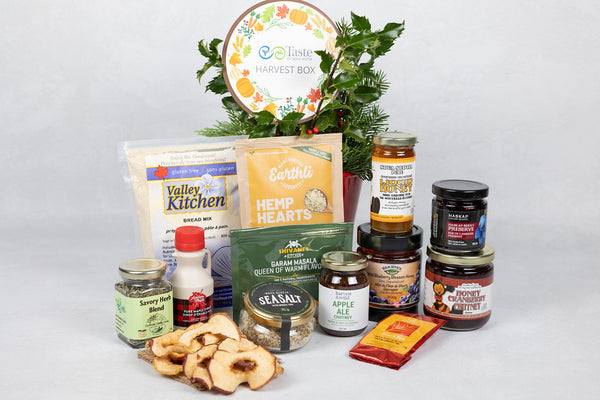 Harvest Box
$125.00
is back-ordered. We will ship it separately in 10 to 15 days.
Celebrate Nova Scotia's abundant harvest season with this collection of carefully selected artisanal food and beverage items.
Savoury Herb Blend - Cochrane Family Farm

Garam Masala - Shivani's Kitchen

Liquid Honey - Cornect Family Farm

Wild Blueberry Honey - Van Dyk's by Nature

Chutney - Harvest & Wild

Haskap Preserve - Haskap Highland Orchards

Maple Syrup - Acadian Maple

Honey Cranberry Chutney - Cornect Family Farm

Nova Scotia Blue Tea - the Tea Brewery

Nova Scotia Sea Salt - Maritime Salt Makers

Apple Chips - Noggins Corner Farm

Bread Mix - Valley Kitchen

Big Cove Spice Packs (2) *Please note, this is being substituted for the Earthli Hemp Hearts in the image.