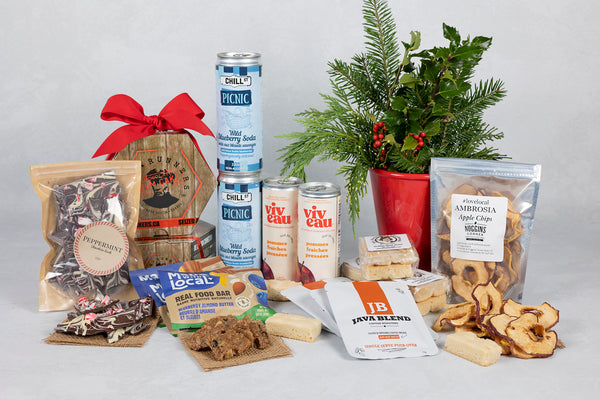 SOLD OUT - Holiday Sharing Box
$125.00
is back-ordered. We will ship it separately in 10 to 15 days.
Update: As of December 20, the Holiday Sharing Box is now sold out.
The holiday sharing box will help kickstart the festive season as you gather with friends and family. Filled with tasty treats to share, including beverages, chocolate, shortbread and more. 

Chocolate Rum Cake (2) - Rum Runners Rum Cake Factory
Local soda (2) - Chill Street Craft Beverages
Viveau (2)

Single serve pour over coffee (4) - Java Blend Coffee Roasters
Traditional Scottish Shortbread (4) - Mrs. MacGregor's Shortbread
Apple Chips (2) - Noggins Corner Farm
Peppermint Bark (large) - Lunenburg Rum Cakes 
Real Food Bars (4) - Made With Local